Today was International Women's Day. It was created to give us a day each year to celebrate "the social, economic, cultural and political achievement of women". But to also "be aware progress has slowed in many places across the world, so urgent action is needed to accelerate gender parity". While my day was quiet - marked by a visit from a friend and a lot of preparing for a meeting tomorrow - I did find time to reflect on the day by doing what I do best...reading a new book.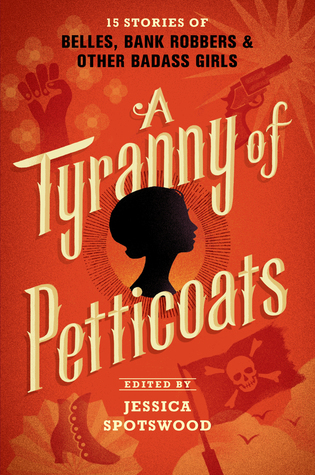 "Criss-cross America — on dogsleds and ships, stagecoaches and trains — from pirate ships off the coast of the Carolinas to the peace, love, and protests of 1960s Chicago. Join fifteen of today's most talented writers of young adult literature on a thrill ride through history with American girls charting their own course. They are monsters and mediums, bodyguards and barkeeps, screenwriters and schoolteachers, heiresses and hobos. They're making their own way in often-hostile lands, using every weapon in their arsenals, facing down murderers and marriage proposals. And they all have a story to tell." - Nabbed from the Goodreads Blurb.
While I've only had it less than twenty four hours...I haven't been able to put it down. I've been looking forward to this book since I learned about it last year. I adore Historical Fiction. I love strong female characters. And here was this coming to my bookshelf - an anthology full of strong female characters through out American History. It was well worth the wait and the expectations...and I'm not through it yet.
There's so much I could say about the experience of being a woman. What it means to me, what I hope for us in the future, what I believe in for us now but...it's almost eleven and I do have a meeting tomorrow. So I shall close this little post with a strong encouragement to pick up/order a copy of The Tyranny of Petticoats and one of my favorite quotes as a reminder to all women that they are infinite, cosmic beings that deserve the bravest life possible.
"You're a ghost driving a meat coated skeleton made from stardust, what do you have to be scared of?"
- Unknown
Love,
Jess