Disclaimer : This is a review of a ARC (courtesy of Netgalley!) and so....spoilers may be ahead. I try to avoid...but, these things happen. lol.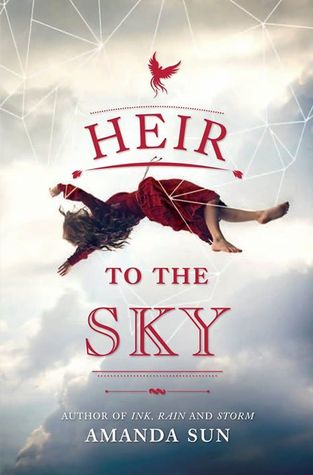 Published
: April 26th, 2016
Publisher
: Harlequin Teen
Page Count
: 384 (Hardcover)
Genre
: Young Adult, Fantasy.
Find the Author
:
Website
(Social media linked there)
"As heir to a kingdom of floating continents, Kali has spent her life bound by limits—by her duties as a member of the royal family; by a forced betrothal to the son of a nobleman; and by the edge of the only world she's ever known—a small island hovering above a monster-ridden earth, long since uninhabited by humans. She is the Eternal Flame of Hope for what's left of mankind, the wick and the wax burning in service for her people, and for their revered Phoenix, whose magic keeps them aloft.
When Kali falls off the edge of her kingdom and miraculously survives, she is shocked to discover there are still humans on the earth. Determined to get home, Kali entrusts a rugged monster-hunter named Griffin to guide her across a world overrun by chimera, storm dragons, basilisks, and other terrifying beasts. But the more time she spends on earth, the more dark truths she begins to uncover about her home in the sky, and the more resolute she is to start burning for herself." - Nabbed from the Goodreads blurb.
From the first chapter I was intrigued about the world that Sun created. It's a floating island kingdom. Supposedly kept floating by a magical, saint-like Phoenix that defied her fellow monsters overriding the earth below and saved the portion of humanity that believed in her. It's a fascinating premise. And the world she creates is consistently developed through out the length of the novel. At a pace that seems suitable while things (plot points, lol) keep going.
The main character Kali is a strong leader in the making. You can tell from the very start that Kali is a strong, independent type of girl who will reign with wisdom and compassion (and all the things a monarch needs to be good at their job). Except...she is highly underestimated and rather placated by the males in her life. Her father, while doting, keeps her in the dark on some pretty important factors about the reality of their world and her fiance acts like she's a empty-headed object. (Surprise douche-bag...she's not.) It's because of this capability (balanced well with vulnerability) that I found her to be a like-able, relatable character.
As for the romantic lead...he's cool. I could get with them together. I did find him and his family like SUPER NICE. It surprised me. But, there's plenty of conflict with all the monsters roaming around on the ground. It's refreshing for a world gone to hell to have brought out more humanity in a group of people than inhumanity. They have more reason to go brutal than the sky people. Griffin is a great guy. He's rough, of course, but he's into her from the start and smiles a lot. He's not my preferred type of romantic lead but he works with Kali.
This is my first introduction to Sun's writing and it is eloquent. There's a chunk of spirituality that comes into play, a good deal of world describing that's necessary, several characters and monsters to bring to life, and some pretty deep thinking along the way to balance together. I found that she balanced everything with eloquence. She's not THE most eloquent author out there but she has a spark of potential that burns bright in the corners and centers of the book.
Three out of five stars!
And a recommendation for any fantasy, monster loving readers out there.
Jess